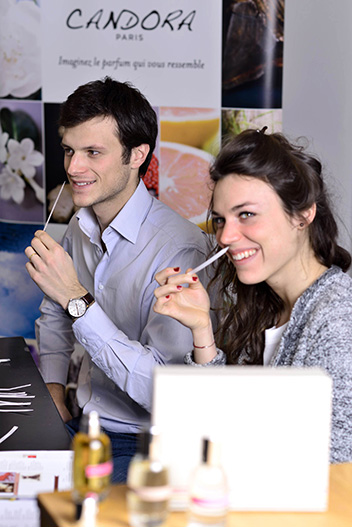 Candora is the specialist of customized fragrance since 2011. We offer a two hours perfume creation workshop in english in our Paris boutique 3 times a week : on tuesday and friday at 2:30 pm and on saturday at 2 pm. More sessions available in high season, check our calendar.
The Candora boutique in Paris
La Maison des Parfums Candora is in the center of Paris, close to Notre-Dame cathedral and Saint-Louis island.
Our workshop takes place there but you can also just come and discover our fragrances, scented candles, and even a few surprises like our perfumed chocolates !
Open from 2:00 pm to 7:00 pm from monday to maturday and by appointment for a private workshop.
Find the workshop which is best for you
• Perfume Creation Workshop (from age 12 years and up), 2 hours, from 79€/person, a great activity for a couple, a group of friends or a family but also enjoyed by solo travelers.
• Perfume Workshop for Families with children 7 to 11 yo, 90 minutes : follow "The Adventures of Inspector Nosy and The Stolen Perfume" and create your own perfume, 49€/child, 79€/adult.
• Private workshop : the privilege to enjoy this moment to make your own perfume in our boutique privatized for you. Our perfume expert is fully dedicated to help you create your blend. Both the workshop recommended for adults and children aged 10+ and the perfume workshop for families can be privatized. Select your date and time with our booking platform. If you do not find the ideal moment for you, contact us. We'll do our best to find the right solution.
More information for english speakers : candora-fragrance.com !